Photoset reblogged from hellfire kitty girl with 1,654 notes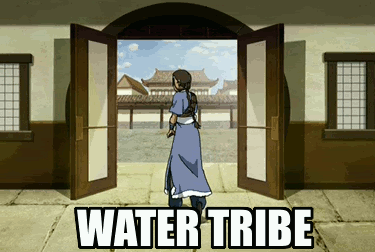 Water Tribe Pride!
Source: ladycatsa
Photo reblogged from ATLA Confession Box with 79 notes
"I really miss the traditional bending styles, the graceful but structured manoeuvres was really an art compared to LOK where metal bending looks like something Spiderman would do"
agreed….but Lin is still bamf
Guise, its amazing outside! the wind! the clouds! the thunder! i love it all…. :D  
I wanna go run in it…………but i can't >.> sad
if only i could waterbend D;
Photo reblogged from An Unhealthy Alternative to Learning with 25,919 notes
I swear, Korra isn't the only thing I draw ghfdsgfdsh
and thats how you deal with a inappropriately laughing sponge
Photoset reblogged from Avatar Style Movies and Music with 983 notes
Katara's Waterbending is so elegant.

I always thought of Waterbending as the most graceful and artistic discipline, demonstrating gentleness and majesty far more frequently than any of the others.

I have this sneaking suspicion that this will not be the case in Korra. Already the three or four instances of her Waterbending seen thus far have been surprisingly direct and power-based. I am loath to believe this simply because of her personality. Rather, I believe Waterbending, and all of the disciplines, must have been revolutionized with the advent of multi-cultural society in The United Republic, providing the opportunity for polymerization of bending styles and forms between elements.

I also wonder if our favorite masters from the former series worked to change their disciplines. Obviously Toph did with her standardization and structuring of Metalbending as its own disparate discipline. I wonder if Aang too pushed the limits of Airbending, making Tenzin a far greater Master of the nearly forgotten art than was to be expected of a typical Airbending Master before the war.

As for Waterbending, I expect Katara attempted to reinstitute Southern Water Style in the Southern Water Tribe in an effort to restore her Tribe's culture. Perhaps this style is slightly more direct and less flourishing than Northern Water Style?

Glad to know I'm not the only one who noticed that waterbending seems to have lost its elegance.

Hoping for an episode in which Katara corrects Korra's use of waterbending.
I'm inclined to agree but most of Korra's waterbending has been during Pro-Bending matches. Since Katara was her waterbending master, I think that her bending is a mix between Katara's traditional 'elegant' bending and her own style (aka forceful Pro-bending attacks) but who knows! She rarely does any bending outside fire unless she's probending >.<
Source: theboomeraang
Post with 3 notes
Just spent the past 10 mins practicing the waterbending Korra does in the opening to Legend of Korra…..dear god i have no life >:D